%%first_name%%,
We saw you're interested in one of our Escoffier Online culinary programs. We're elated about your interest and would love to fill you in on the full online culinary and pastry programs we offer! We would love to touch base with you and tell you a little bit more about what we can offer for your bright culinary future. Get in touch with us and one of your admissions representatives can walk you through exactly what we do, how we do it and why it works. Have any questions? Not a problem. We've got your answers.
To recap, Escoffier Online Culinary Academy is the first entirely online cooking school in the world. Isn't that cool? We love the fact that we have students enrolled in all 50 states in the U.S. as well as 25 countries. Our students are the reason why we're here and we couldn't be happier with all the success stories we hear on a weekly basis. To give you an example, here's a video we did with one of our recent graduates who is now the food and beverage manager for a Marriott Vacation Club in Florida. It's stories like this that warm our hearts and convince us that what we're doing is as awesome as we think it is.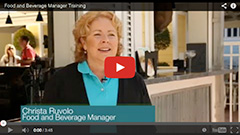 ENROLL NOW
Or call Admissions at (800)234-5678 / email to Enroll.


"The passion that she has ... that's contagious and that rubs off on everybody she's around, including myself. We're very thrilled she has taken the program and gave it 100% effort ... and she has proven to us that it was definitely worthwhile."
– Russ Kranich
Director of Operations and
employer of Escoffier graduate
Christa Ruvolo.
---
Live Chat With Us
Our enthusiastic and knowledgeable admission advisors are standing by to help answer your questions.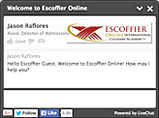 ---
Live Webinars
Join our Chef Mentors live in the kitchen every Tuesday, Wednesday and Thursday at 9:30am CST.