The Dynamics Rock Mathers
Posted on by El Jefe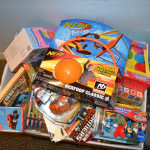 Friday December 21st The Dynamics played a set for an enthusiastic crowd at the annual Toys for Tots charity event. Seasonal tunes included "Santa Looks a Lot Like Daddy", "Run Run Rudolph" and "Silent Night." The set was also rounded out by classic Dynamics numbers like "Mustang Sally", Johnny B. Goode" and "Black Magic Woman/Oye Como Va".
In fact, the recordings on this website were recorded at that awesome gig. Enjoy!
Everyone in the crowd brought a toy to gain admission to the concert and a fun time was had by all!