Dynamics Thrill at Friday Night Love Songs
Posted on by El Jefe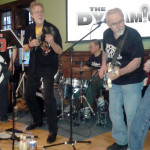 For those Baby-Boomers who refuse to grow up, Friday Night Love Songs was the place to be on Friday night, April 17, 2015.
Just two days after taxpayers are scrambling to get to the post office so they can get a refund check, the Dynamics were passing out reality checks to the Boomers in attendance.
Yes, those who came refuse to believe they are getting older and just sat back to listen to songs from the 50's, 60's and 70's, the Golden Era of Music.
Songs like Elvis Presley's, Blue Suede Shoes, Little Sister and Stuck On You rocked the crowd that came to this free concert to donate money to the American Cancer Society.
The Rolling Stones hits, Brown Sugar, Honky Tonk Woman and the Beatles, Ticket To Ride had everyone smiling and bopping around.
The first half of the show came to a close with the Latin vibes of Santana and Black Magic Woman/Oya Como Va, with Mustang Sally (Wilson Pickett), Pretty Woman (Roy Orbison), Runaway (Dell Shannon) and White Room (Eric Clapton and Cream).
The Boomers were happy to take a short break and contribute funds of over $150.00 to combat cancer, as the opening of a three set concert.
The band returned to keep the train station moving performing an old rock hit from Joe Cocker, Unchain My Heart followed by Wooley Bully (Sam The Sham and The Pharaohs), Spooky (a Classic IV composition), Hand Jive (by 50's, Johnny Otis) and Shake, Rattle and Roll, written by Big Joe Turner yet made popular by Bill Haley and The Comets.
As the show was winding to a close, they performed a Johnny Cash favorite Folsom Prison Blues before belting out All Right Now (Free) and Good Lovin' (Rascals).
The finale came as a complete shock to newcomer, Gloria (friend of Friendships Laurie Guth) when Wally called her name and started the song made popular by the Shadows Of Knight (G-L-O-R-I-A).
Lead vocals and comic dialogue for the evening were provided by Wally Ayres. With Brian Salgado – Harmonica, Scott Crucean – Lead Guitar, Bob Hill – Bass, Ed Lau – Drums & Percussion and Ovie Salgado – Rhythm Guitar and Band Leader.
Friday Night Love Songs continues with more Classic Rock from band Return Full Circle on Friday, May 15, 2015. They are familiar with the Norwood Park neighborhood as several band members attended Taft High School as young men. We hope you will join us for our next installment of our monthly series.