Dynamics Rock Q-Bar in Darien Illinois
Posted on by El Jefe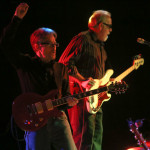 The music was loud and the lights were bright Saturday the 14th in Darien, IL at Q-Bar.
The crowd danced and sweated to three sets of vintage rock 'n' roll even as NASCAR and a major golf event went on elsewhere in the city. The group was proud to take this opportunity to debut several new songs. The Spencer Davis Group's "I'm a Man", Free's "Alright Now" and Creedence's "Green River" were among the six new songs dropped onto an unsuspecting crowd Saturday.
Keep it right here for more announcements of upcoming gigs at the excellently appointed sports bar!