Dynamics At Chicago Sports Hub
Posted on by El Jefe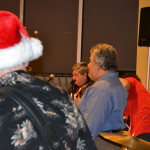 The Dynamics played a strong Friday Night set for a small but enthusiastic crowd at the Chicago Sports Hub on Harlem in Chicago (www.chicagosportshub.com).
Songs included "Little Sister" by the king Elvis Presley, "Stray Cat Strut" and "Rock This Town" by Stray Cats, Chuck Berry's "Johnny B. Goode" and an extended version of Santana's "Black magic Woman/Oye Como Va" medley.
Stay tuned for more upcoming gig announcements for the Dynamics at the Chicago Sports Hub.